.
If you felt cheated on the price and quality of Proton cars, I don't blame you. It is a fact that Proton sells cars at an exorbitant price in a government protected sector. It is a fact that you can buy better (and cheaper) cars if
Proton was not protected
.
It is a sad fact that most of us
have no choice
but to buy Proton
The question is do you still feel cheated on the after-sales services? My Proton's 60,000 km warranty expired recently and I was able to take my car to the car service workshop near my house.
A quick comparison of similar items between CK Wong Auto Repair Centre (CKW) in Puchong and Proton Edar Service Centre Puchong (PES) is as follows:-
Labor Charge

RM20.00 (CKW) [2 full time mechanics]
RM100.00 (PES) [includes PES mechanic going for his teh tarik 2 times in the mid of servicing my car]
Oil Filter
RM9.00 (CKW) [Original Proton Parts]
RM11.85 (PES)
Brake Fluid

RM25.00 (CKW) [Change of entire brake fluid]
RM24.00 (PES) [Just top up]
Note the differences now? If I convert the time spent at the service centre at RM1.00 per minute, the differences is going to be like this:-
CKW
– parked my car at 10.00 am (on Sunday) and service all done by 11.30 am. Total minutes spent: 90 minutes = RM90.00
PES
– parked my car at 6.30 am (must be working day! PES do not do any services on Sat or Sun) and service all done at 2.00 pm. Total minutes spent: 450 minutes = RM450.00
Extra minutes wasted in PES are 360 minutes = 6 hours! (not including the cost of 3 teh tariks and 2 nasi lemaks during my waiting time at PES)
Do I feel cheated on the after-sales service? Look at the above differences and tell me…sigh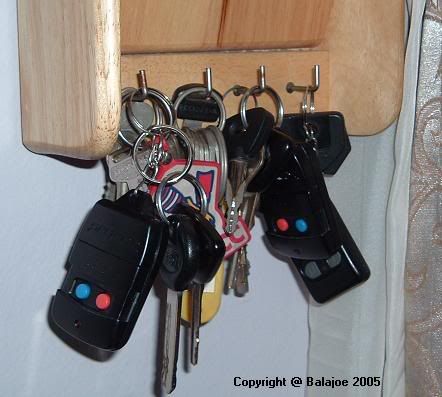 * Too many Protons owners in the house. There is another Proton car key lying on the table. Too much for comfort (damn need to change car already!)